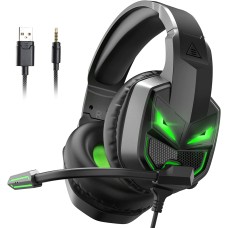 EKSA Fenrir Gaming Headset with Microphone for PS4 PC Xbox one PS5 Switch Laptop, Over ear Headphones Wired with Noise Cancelling Mic, 3.5mm Audio Jack, 50mm Stereo Drivers, Led Light, Black
(Διαθέσιμο)
EKSA Fenrir Gaming Headset with Microphone for PS4 PC Xbox one PS5 Switch Laptop, Over ear Headphones Wired with Noise Cancelling Mic, 3.5mm Audio Jack, 50mm Stereo Drivers, Led Light, Black
EKSA Fenrir Gaming Headset with Microphone for PS4 PC Xbox one PS5 Switch Laptop, Over ear Headphones Wired with Noise Cancelling Mic, 3.5mm Audio Jack, 50mm Stereo Drivers, Led Light, Black
Κωδικός Προϊόντος:
le415dn
Διαθεσιμότητα:
Διαθέσιμο
About this item
【Quality Over-Ear Headphone】The EKSA E7000 gaming headset is engineered with extra larger, deeper, and softer ear cushions that are glasses-friendly and house your ears perfectly, letting you play for hours without feeling weighed down by your headphones.
【Unique New Design】The EKSA Fenrir gaming headset features an exclusive IP design with a werewolf image and monochrome lighting for a unique look. Get ready to pounce into a gunfight and immerse yourself in the game world.
【Rotatable Noise-Cancelling Microphone】The E7000 gaming headphones features a 120-degree rotatable microphone that lets you position your mic in the most comfortable spot possible while still sounding crystal clear. The unidirectional microphone can effectively reduce environmental noise, so your teammates won't hear any static or interference in the background, with excellent sound quality.
【Clear Powerful Sound】The EKSA usb headset is designed for gamers looking for an edge. Its 50 mm drivers bring you superior sound clarity and deep, punchy bass to give you every advantage in your game. Every sound detail is heard when gaming, from the footsteps of enemies creeping up behind you to the triumphant roar of your character when you win.
【Multi-Platform Compatibility】The EKSA E7000 Fenrir gaming headphone is a versatile, cross-platform headsets that works with PC, PS4, PS5, Xbox One, Nintendo Switch, and laptop via the 3.5 mm audio jack.