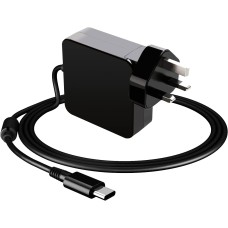 BOTKK 65W USB C Laptop Charger for HP Dell Lenovo Acer ASUS Google HUAWEI Samsung Type C Power Supply AC Adapter 65W USB C Power Adapter Compatible with Mac book Pro
(Διαθέσιμο)
BOTKK 65W USB C Laptop Charger for HP Dell Lenovo Acer ASUS Google HUAWEI Samsung Type C Power Supply AC Adapter 65W USB C Power Adapter Compatible with Mac book Pro

Bluetooth Audio Adapter for Music Streaming Sound System, esinkin Wireless Audio Adapter Works with Smartphones and Tablets, Wireless Adapter for Speakers
BOTKK 65W USB C Laptop Charger for HP Dell Lenovo Acer ASUS Google HUAWEI Samsung Type C Power Supply AC Adapter 65W USB C Power Adapter Compatible with Mac book Pro
Κωδικός Προϊόντος:
leSP415dn
Διαθεσιμότητα:
Διαθέσιμο
About this item
· 【Specifications】Rated power: 65W,Input voltage: 100V-240V, 50-60Hz; Output: 5V 3A, 9V 3A, 12V 3A, 15V 3A, 20V 2.25A, 20V 3.25A (automatically adjust the output current and voltage).
· 【Compatible with】Lenovo ThinkPad p52s t480 t480s E590 E490 Lenovo Yoga c930 920 Ideapad 720 720S Lenovo ThinkPad X1 Carbon 5th 6th; HP Chromebook X2 X360 11 G1 EE 14 G5 G6 14-ca061dx 11-ae051wm 11-AE000 10-P000 Spectre 12 13 12-A 12-AB 12-F 12-f014dx 13-W 13-w063nr Elite x2 Pavilion X2 series,HP Pro x2 612 G2 Samsung Galaxy S8 S9 S20 Samsung Chromebook Pro,type c laptop charger
· 【Compatible with】Lenovo Yoga 910 C930-13 S730-13 730-13 720-13IKB 920-13IKB S730 Lenovo Chromebook C330 S330 N23 ThinkPad E480 L480 X280 T580 Lenovo ThinkPad A275 A475 E580 L380 L580; HP Chromebook 13 2nd Gen 11A 14-ca020nr 14-ca060nr; DELL XPS 12 13; ASUS C302CA ASUS Transformer 3 Asus ZenBook 3; Acer Switch Alpha 12 Series; Google Chromebook Pixel ,PixelBook; HUAWEI MateBook; TOSHIBA; Nokia and More USB Type C Charging Cable Notebook,type c power supply
· 【Safety】Type C Replacement Charger made with quality materials and go through Surge / Overheat / Safety Testing. CE / FCC / RoHS Certified for Safety. The type c travel adapter can be used as a perfect travel companion.Lightweight and exquisite, easy to carry.The PD charger has a smart design that allows the DC cable to be wrapped around itself for easy cable storage. Fast Power Adapter Charger can provide super fast charging speed for your Tablets.