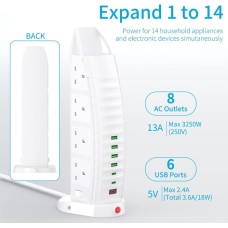 Tower Extension Lead with USB Extension Cord 8 Way Outlets 6 USB Ports 3.6A Multi Plug Extension Socket 2M Cable with Switches, Vertical Power Strip
(Διαθέσιμο)
Tower Extension Lead with USB Extension Cord 8 Way Outlets 6 USB Ports 3.6A Multi Plug Extension Socket 2M Cable with Switches, Vertical Power Strip

SSK 11 in 1 USB-C Hub, Laptop Docking Station with Triple Displays, Type C Multiport Adapter with 2(Dual) HDMI 4K,VGA,PD3.0,SD/TF Card Reader,RJ45 etc. for MacBook/Pro/Air/IMAC/XPS and More
Tower Extension Lead with USB Extension Cord 8 Way Outlets 6 USB Ports 3.6A Multi Plug Extension Socket 2M Cable with Switches, Vertical Power Strip
Κωδικός Προϊόντος:
po1250
Διαθεσιμότητα:
Διαθέσιμο
Expand 1 to 8 AC Outlets 6 USB Ports: Our tower extension cord supports maximum output power of 3250W/13A, which enables you power up 14 devices simultaneously. Meet your daily electricity needs. It's also designed with an enlarged base. Make it not easy to fall down or trip over and ensure stability, even if plugged with several big adapters.
6 Smart and Fast USB Slots: The plug extension socket with usb comes with 6 usb ports. USB-C delivering 3.0A Max, each USB-A 2.4A Max. Output 3.6A/18W in total. Smart IC can auto identify the connecting devices and supply the optimal speed for devices. The power strip with Type-C Port fits most device, such as smart phone, tablet, PC and etc.
Non-Blocking Design: The extension socket enjoys wide-spaced outlets at two sides. Come with ideal design for different types or big sizes of UK plugs and adapters! Fill all eight sockets without obstructing the adjacent sockets. This vertical power strip has 2 power-saving On/Off switches with indicator lights. Appliances can be controlled separately with the buttons.
Overload Protection Button: The extension lead tower with usb has a reset button. It will pop up and automatically cut off the power supply when exceeds 3250W. Protect your devices from being damaged. Just press the button to resume use, when the overload is eliminated.
Safe Protection with Reliable Certification: BEKHOM 8 way multi plug extension sockets is made of 2M Upgraded thick and pure copper cord. Built with 750℃ fire-retardant shell, children safety shutter.
Supply you a safer connection, higher conductivity and better heat dissipation. The USB charging digital display can intelligently show the voltage and current of connecting devices. Keep you informed of the charging status anytime.