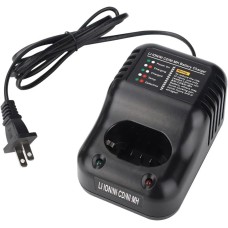 Battery Charger Compatible with Paslode Li-ion Ni-CD Ni-MH
(Διαθέσιμο)
Battery Charger Compatible with Paslode Li-ion Ni-CD Ni-MH

Arteck 2.4G Wireless Keyboard Ultra Slim and Compact Keyboard with Media Hotkeys for Computer Desktop PC Laptop Surface Smart TV and Windows 11/10/8/7, Silver
Battery Charger Compatible with Paslode Li-ion Ni-CD Ni-MH
Κωδικός Προϊόντος:
leSP415dn
Διαθεσιμότητα:
Διαθέσιμο
About this item
【 BATTERY COMPATIBLITY 】 —— 100% compatible with Paslode 6V 1.2A Ni-Cd/NI-MH Battery 404717 B20544E BCPAS-404717 BCPAS-404717SH 404400 900400 900420 900600 901000 902000 B20720 CF-325 IM200 F18 IM250 IM250A IM350A IM350CT PS604N etc, 7.2V 1.2A LI-ION battery 902654 902600 B20543A B20543 CF325LI 918000 IM250A etc(Battery not included)
【 LED INDICATOR TO MONITOR 】 —— Our 900476 Battery Charger for Paslode with indicator lights to show the battery status. Built-in charger diagnostic program checks batteries with every charge to optimizes the battery life and performance.
【SPECIFICATION 】 —— INPUT:100-240V 50/60Hz 18W, OUTPUT: Li-ion 7.2V 1.2A, Ni-MH/Ni-Cd 6V 1.2A
【 ADVANCED HEAT DISSIPATION 】—— Bulit-in cooling system with vents on the three sides circulate air across the batteries to cool down the heat during charging. and extends batteries' cycling times for long lifespan.
【 SAFETY ASSURANCE WITH CE FCC CERTIFIED 】 —— 404717 rapid charger comply with FCC RoHS and CE security testing standards. Advanced technical supports to protect against over-charge, short-circuit, over-heat, over-load and low-voltage. Any question with the 404717 Battery Charger , Please be free to contact with us.
Product Description
【 BATTERY COMPATIBLITY 】 —— 100% compatible with Paslode 6V 1.2A Ni-Cd/NI-MH Battery 404717 B20544E BCPAS-404717 BCPAS-404717SH 404400 900400 900420 900600 901000 902000 B20720 CF-325 IM200 F18 IM250 IM250A IM350A IM350CT PS604N etc, 7.2V 1.2A LI-ION battery 902654 902600 B20543A B20543 CF325LI 918000 IM250A etc (Battery not included)
PACKAGE INCLUDED:
1 * Paslode Battery Charger (Battery not included)
1 * User Manual