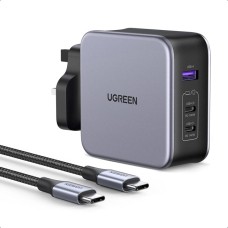 UGREEN 140W USB C Charger, MacBook Pro Charger Nexode 3-Port PD3.1 PPS GaN Fast Laptop Charger with 240W USB C Cable Compatible with MacBook Pro/Air, Dell XPS, iPad Pro, iPhone 14 Pro Max, Galaxy S23
(Διαθέσιμο)
UGREEN 140W USB C Charger, MacBook Pro Charger Nexode 3-Port PD3.1 PPS GaN Fast Laptop Charger with 240W USB C Cable Compatible with MacBook Pro/Air, Dell XPS, iPad Pro, iPhone 14 Pro Max, Galaxy S23

UGEE M708 V3 Drawing Tablet,10x6in 3D Digital Graphics Tablet with 8192 Level Battery-free Tilt Pen,8 Hot Keys,Art Design Creation Tablet for PC with Windows 11/10/8/7,Mac OS 10.10 or above,Chromebook
UGREEN 140W USB C Charger, MacBook Pro Charger Nexode 3-Port PD3.1 PPS GaN Fast Laptop Charger with 240W USB C Cable Compatible with MacBook Pro/Air, Dell XPS, iPad Pro, iPhone 14 Pro Max, Galaxy S23
Κωδικός Προϊόντος:
leSP415dn
Διαθεσιμότητα:
Διαθέσιμο
126,00€
Χωρίς ΦΠΑ:

101,61€
About this item
· MacBook Hyper-Fast Charger: With the PD3.1 protocol, a single port pumps 140W to a MacBook Pro. It charges the 16" MacBook Pro to 56% in 30 minutes,1.8X faster than a 65W USB C laptop charger. (Note: When charging Macbook Pro 16'' with 140W, please use USB-C to MagSafe3 cable for best results, not included in the package)
· 3-in-1 Multi-port Laptop Charger: Two USB-C ports and one USB-A port power two laptops and a phone simultaneously, fast enough for a multi-device tech user. (Please note that the included 2M 240W USB c cable is under the inside of the box)
· Superior Compatibility: Nexode 140W USB C Charger is compatible with MacBook Pro 16, 15, 14, 13", MacBook Air, Dell XPS 15/13, HP Spectre/HP Chromebook, Surface Pro, iPad Pro/Air Series, iPhone Series, Galaxy Series, Pixel Series, Switch, Steam Deck, and More. And it also supports PPS 45W charging protocol for Samsung 45W super fast charge 2.0. (Dell laptop series cannot be charged at full speed due to charging protocol restrictions)
· Smaller Size, Optimum Efficiency: Revolutionary GaN technology reduces the size of the Nexode 140W USB C Charger by 22% compared to the original 140W chargers. Meaning more power in your palm without a sacrifice in quality or power.
· Long-Term Longevity & Safety: Power Dispenser System intelligently adjusts power outputs protecting device's battery, improving battery life. Thermal Guard System scans temperature 800 times per second, safeguarding your devices from overheating.