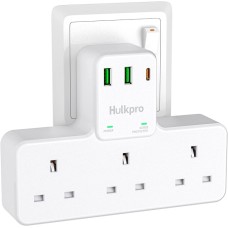 3 Way Plug Adaptor with USB, Multi Plugs Extension Adapter 3 Way 3 USB (1 Type C), Surge Protected Extension Plug, Hulkpro 13A Fused UK Power Extender 3250W for Home, Office, Kitchen
(Διαθέσιμο)
3 Way Plug Adaptor with USB, Multi Plugs Extension Adapter 3 Way 3 USB (1 Type C), Surge Protected Extension Plug, Hulkpro 13A Fused UK Power Extender 3250W for Home, Office, Kitchen

3 in 1 Charging Station for Multiple Devices Apple, Removable Charging Stand for 14/13/12/11/X/8/7/6/5 Series, Apple Watch Series 8/7/SE/6/5/4/3/2/1, Airpods1/2/3/Pro(Black)
3 Way Plug Adaptor with USB, Multi Plugs Extension Adapter 3 Way 3 USB (1 Type C), Surge Protected Extension Plug, Hulkpro 13A Fused UK Power Extender 3250W for Home, Office, Kitchen
Κωδικός Προϊόντος:
leSP415dn
Διαθεσιμότητα:
Διαθέσιμο
About this item
· 6-IN-1 Multi Plug Extension --- Hulkpro 3 Way Plug Adaptor expands the wall outlet to 3 AC Outlets and 3 USB ports. The total rated power 3250W enables you to power up electrical appliances like hair dryer, microwave oven, etc.. Ideal for powering devices at dorm, kitchen, office, garage, providing ultra convenience for your appliances and electronic devices.
· Smart AUTO-ID USB Ports --- The multi plug extension with USB comes with 1 x USB-C port and 2 x USB-A ports. Smart IC can automatically identify the connecting devices and deliver the optimal speed for your devices. (USB-C port 3A/5V 15W Max, USB-A port 2.4A/5V 12W Max, total 3.1A/5V 15.5W). With such different types of USB Ports, you could directly use USB cables to power up the devices without bulky adapters.
· Surge Protection --- This multi plug adapter is designed with surge protector, which can effectively protect your electrical appliances against spikes and fluctuations. The maximum energy-absorbing capacity of 350 Joules. (The "Surge Protected" indicator light on to show your devices are protected)
· All-Round Safety Protection --- Hulkpro plug extension with USB meets the criterion of BS1363/A. Safety door design can prevent kids from inserting fingers into the ac outlet. Built with 750°C flame-retardant material. Made of 100% pure copper core with better conductivity and heat dissipation. Safeguards your household electric appliances.
· Non-Blocking --- This small multi socket extension plug has 53mm widely spaced outlets which are compatible with UK larger plugs and oversized adapters. Just plug it to the wall sockets to save your desktop place as well as keep things tidy and well-organized.
· Compact & Lightweight & Space-Saving --- The triple plug extension adaptor with USB C occupies only a single outlet on your wall panel. It till leave enough space for your other plugs. And it's convenient to carry it around with occupying small space of the luggage and briefcases.